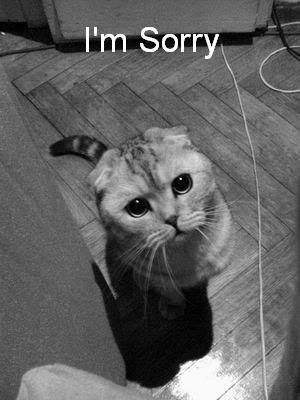 Mi largo tiempo aqui en la tierra ... desafortunadamente ... Me ha convertido en nada mas que en otro humano mas ... otro del monton ... con las mismas cualidades .. pero tambien ... con sus millares de errores y malas mañas ... Y es que estupidamente he aprendido a hacer derramar una lagrima a una dulce Libelula ... he hecho sentir dolor a una Diosa ... y he hecho enojar a una Ninfa ... y maltratar a una Musa ... ... Lo peor de todo .. es que he aprendido a pedir perdon mil veces ... en vez de evitar cometer los mismos errores una y otra vez ... para no tener que utilizar esas palabras .. las cuales con el tiempo ... de tanto repetirlas ... pierden su real significado ... Y no es que mienta al decir que lo siento ... o al disculparme luego de un acto estupido que haya cometido ... pero porque no hacerme de fuerzas ... y no actuar de manera infantil y errar una y otra vez ... Madurar .. aceptar las situaciones que se me presentan ... y buscar la manera de mejorar las cosas ... en vez de enredarlas mas ... o causar caos por ellas mismas ... pudiendo lograr mayor armonia ... Y nada mayor y mas perfecto ... que una sonrisa suya ... ... "Errare humanum est" ... pero no tratar de utilizar la frase como excusa ... y hacer las cosas como deben ser hechas ... como adulto ... O no hacer nada del todo ... aprender a callar ... cuando mis palabras puedan herir ... o cuando no sean necesarias ser dichas ... He sido un idiota ... un simple humano ... Y lo Siento ...
Perdon ...
Mood: Ashamed of myself ...

Quote: "I don't have a girlfriend, I just know a woman that would get mad at me for saying that" - Mitch Hedgeberg...

Song: Love Song for no one - John Mayer
Staying home alone on a Friday

Flat on the floor looking back

On old love

Or lack thereof


After all the crushes are faded

And all my wishful thinking was wrong

I'm jaded

I hate it


I'm tired of being alone
So hurry up and get here
So tired of being alone

So hurry up and get here


Searching all my days just to find you

I'm not sure who I'm looking for

I'll know it
When I see you


Until then, I'll hide in my bedroom
Staying up all night just to write

A love song for no one


I'm tired of being alone

So hurry up and get here
So tired of being alone

So hurry up and get here


I could have met you in a sandbox
I could have passed you on the sidewalk

Could I have missed my chance
And watched you walk away?


I'm tired of being alone

So hurry up and get here

So tired of being alone

So hurry up and get here
You'll be so good
You'll be so good for me